The Apple Watch 4 is the best smartwatch you can buy on the market right now. Period.
Although personally, we are a bit divided on the new Apple Watch. On the one hand, we think that Apple Watch 4 is the best smartwatch you can currently get. And to back that claim, the Series 4 watch is literally the best Apple Watch to date. On the other hand, it's not as great a leap from last year's Apple Watch Series 3 as you might think.
And in spite of being the best smartwatch out there, the Apple Watch still isn't close to being a must-have device; that is rather unless you value the possible benefits of its new health features. Although however if you are looking for a fitness tracker, maybe get the cheaper Series 3 over the Series 4? Since both Series 3 and 4 have not changed much on their fitness tracking aspects.
So without waiting longer, let's dive into the review!
What's in the box?

Watch body enclosed inside a felt cover
USB wall adapter (GPS + Cellular model gets the 5W adapter)
USB to Lightning cable (1 meter) with induction charging dock
Instruction Manual
Watch Band (in a separate box)
Opening the package unveils two boxes. Opening the first box reveals three storage slots. The Apple Watch 4 wrapped in felt sits in the first slot. In the second slot beside, sits the charging dock and cable. And in the last slot is the charging brick. Next, opening the second box reveals a pair of bands. You have to manually attach one of the bands to the watch.
Since there's a GPS + Cellular option for the Apple Watch 4, there's, of course, a base variant without Cellular connectivity. That version doesn't come with the 5W charger. That privilege is reserved for the higher GPS + Cellular variant. Can you buy the 5W charger separately? Yes, Apple being themselves, always have that option for you at their store for only $19 which again costs the same as the 12W power adapter at $19.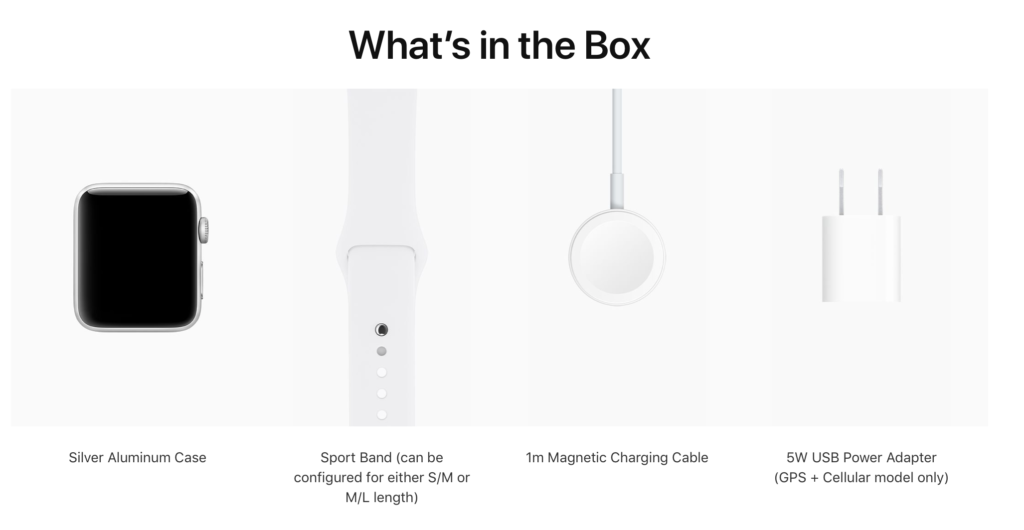 Apple Watch Series 4 – Specifications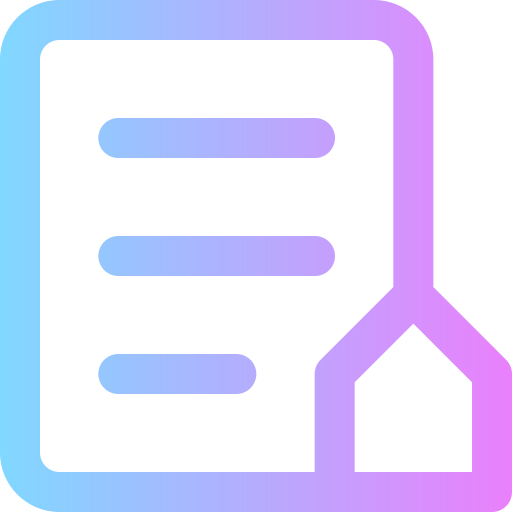 Apple has yet again improved upon their previous S3 chipset with the new S4 chipset. The result is an even snappier performance for the Series 4. Following are the specifications –
44mm
40mm
OPERATING SYSTEM
Watch OS 5.0
Watch OS 5.0
DISPLAY
1.78-inch
LTPO OLED
448 x 368 (~326ppi)
1.57-inch
LTPO OLED
394 x 324 (~326ppi)
PROCESSOR
Apple S4
Dual-Core
Apple S4
Dual-Core
RAM
N/A
N/A
GPU
PowerVR
PowerVR
INTERNAL STORAGE
16GB
16GB
USB
No
No
WLAN
802.11 b/g/n
802.11 b/g/n
BLUETOOTH
5.0
5.0
NFC
Yes
Yes
BATTERY
Li-ion
Li-ion
PRICE
$529/$429
$499/$399
Apple Watch Series 4 – Design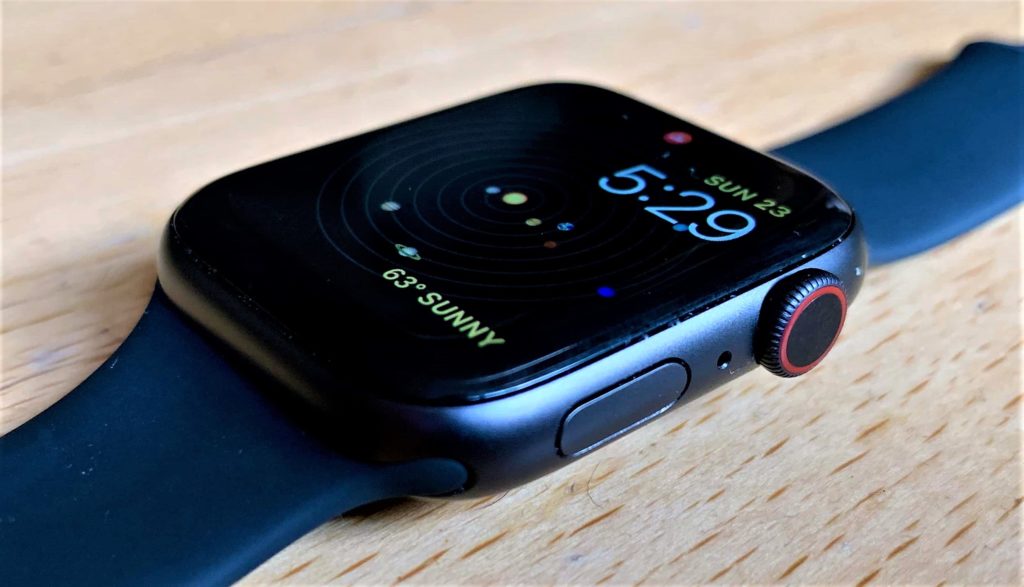 Design is much larger
The screen is more usable
Doesn't gain much weight
There is something that you are going to notice upfront about this watch that looks very different. The difference may not be apparent to someone who has never seen an Apple Watch before, but to those that have seen the earlier models; they will instantly find that the screen is much bigger. In fact, it is about 30% larger.
While it is not exactly an edge-to-edge display as some are suggesting, it's certainly a lot larger and more rounded. As such it gives the impression of a rounder timepiece without losing on the advantages of a square display. You will also notice that the chassis is a bit thinner by a margin over the previous models. The weight is minimal and as such, you may sometimes find it difficult to notice it on your wrist. Bottom line? This is not a heavy digital timepiece.
The Digital Crown and power/multitasking button on the side of the Watch 4 have been improved as well. The power button now feels like it's got more of a premium click when pressed. The back of the Apple Watch 4 also gets some upgrades. Though it still uses ceramic material to let the radio signal through, it has been combined with sapphire glass to allow for placement of the radio antenna around the edge of the watch. Thereby it becomes easier for the signal to be transceived without your wrist obscuring the frequency.
The rear looks more bulbous in reality but since it's wider and gently curved, it is not something you feel on the wrist while wearing.
Apple Watch 4 – Display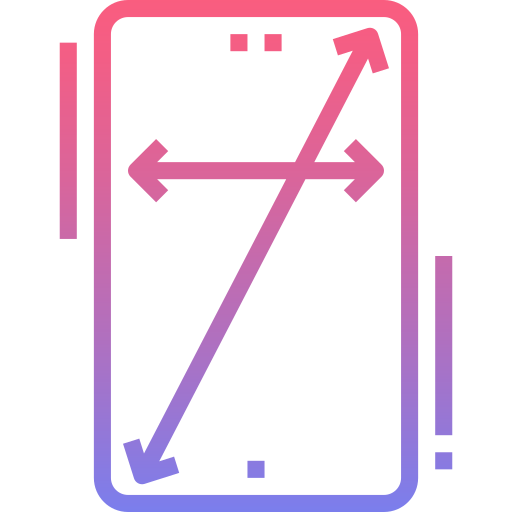 Much Larger
Brighter than previous models
Interactions are easier
If you are going to notice something about the Apple Watch 4 at first, it is its face. Gone are the thick bezels surrounding the watch's display and replaced by a screen that is much larger. Both the series 4 models are slightly larger with ~30% larger displays than their predecessors. And though it might not sound like much, it does, in fact, make a significant difference.
The 40mm model's OLED screen has a resolution of 394×324 compared to its 38mm Series 3's 340×272 resolution sporting predecessor. The 44mm model also gets a 448×368 resolution display versus the 390×312 panel in the 42mm Series 3. It seems that Apple has somehow managed to put a bigger display on the smaller Series 4 than the larger of its Series 3 brethren. A larger screen on a touchscreen always results in easier interactions and is true for the new Series 4 watches.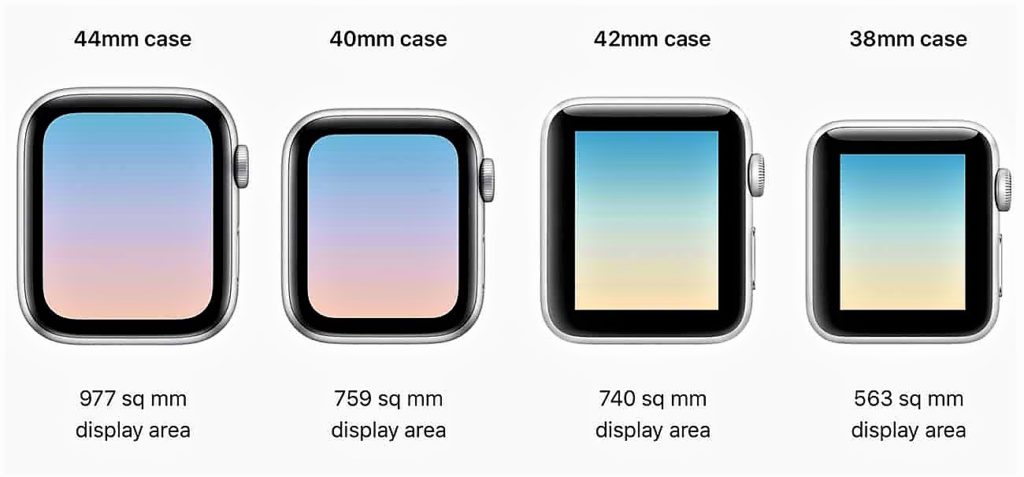 The display brightness hasn't changed in the transition from Series 3 to Series 4. Both the version hit 1000 nits – but Apple has redone the interface to take advantage of the extra space on the newer watch's extra-large screen (when compared to any other smartwatch on the market). Icons are larger and more detailed. It's quicker and easier to read notifications. Even in bright sunlight, the larger screen along with the larger icons makes it seem that the display is brighter than the Series 3, even though technically both have the same screen brightness levels.
Apple Watch 4 – Performance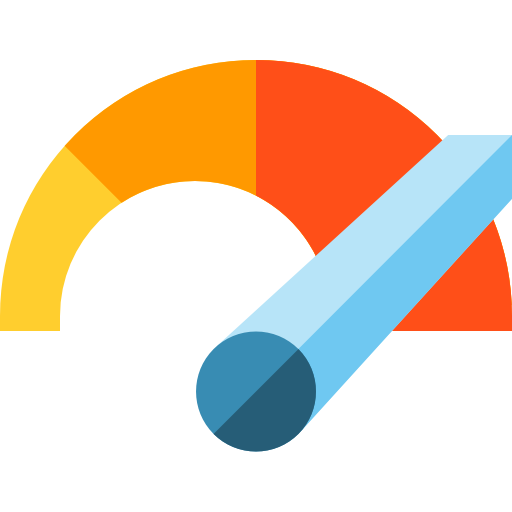 Rewinding back to 2015, the first Apple Watch was – Slow. Loading apps on it now feels like – took an eternity. The Apple Watch 4 has improved on this aspect by an order of magnitude when it comes to performance. It was in fact just three years ago that Series 0 relied for everything on your iPhone and took an eternity to load anything. By comparison, the Series 4 is blazingly fast, all thanks to its 4th-gen S4 SoC.
Launching apps happens in a jiffy. Downloading emails, maps, are almost instantaneous – almost similar to an iPhone. Both models of the Seris 4 are lightning quick compared to anything from the Google Android-powered Wear OS stable. It is safe to say that the S4 Soc is far ahead in performance than anything currently from Qualcomm, the latest being the Snapdragon 2100 SoC. Though that can soon change with the new Snapdragon 3100 CPU, it would still be safe to say that Apple is far ahead in the race to smartwatch processing power.
Improved Audio

Apple has improved the speaker on the Series 4 smartwatches – to that extent, it handles speakerphone functions much better. A louder speaker now truly does help with quick requests to Siri. A new raise-to-speak function in WatchOS 5.0 means you can now speak closely to the watch instead of having to yell "Hey Siri". All of this somehow works magically. You can also use the watch as a normal speakerphone to make calls via your wrist – an that too works perfectly.
Apple Watch OS 5.0
The newest version of WatchOS is packed with features that make Apple smartwatches much more useful. The Series 4 is an excellent fitness tracker that has been made even better with software tweaks to WatchOS 5.0. It now lets you challenge your friends to different activities, track workouts like yoga, hiking, track new metrics like rolling miles and cadence and automatically track exercises without ever launching a workout.
Is Cellular worth the premium?
Connecting the Watch to a phone carrier for a truly phoneless experience is available for a $100 premium over the normal GPS only model. Add to that a $10 a month or more depending on your carrier for data. The watch's ceramic rear does help with cellular reception. Worth mentioning is – cellular eats into the battery life, so expect maybe a day max if you're lucky.
Fitness
It has been some years now that Apple with its Smartwatch took big strides in fitness tech. The improved and revamped accelerometer, gyroscope and heart-rate sensor on the Series 4 seemed like they would improve tracking, but that is not always the case. For most of the fitness tracking scenarios, the new Apple Watch does mostly the same thing as its predecessor.
ECG – Is it a must-have?
By far, the most interesting thing or rather feature of the Series 4 watch is an FDA approved ECG app that can perform more medically accurate on-the-spot heart rate checks. This effectively makes the Apple Watch an over-the-counter health device.
Naturally, ECG is short for electrocardiogram which US doctors generally abbreviate to EKG. The one-lead ECG on the Apple Watch works by taking a stationary 30-second-heat-rate recording by completing an electrical circuit between the back of the watch and your finger on the digital crown. The heart reading can read the sort of peaks and valleys you would get to see on a heart rate readout at a hospital, although a bit less accurate. But it can check for heart-rate rhythm anomalies, which the wearer is notified of.
But the ECG app does have its limits. It's really a step up, but it's very unlikely to be anyone's standalone heart monitor; it isn't even claiming that it can be.
Fall detection, Low heart rate
The Apple Watch Series 4 can detect falls, vis-a-vis its improved accelerometer, gyroscope and optical heart rate sensors. Fall detection works through a combination of G-force impact and detection of hand and arm placement when falling using the watch's updated accelerometer and gyroscope. Apple's testing and algorithms look for indications only during a "real" fall incident.
The new watch can also detect abnormally low sedentary heart rate, in much the same way that the current set of Apple watches can detect a high sedentary heart rate. Either of these can raise a flag for medical problems or can be false positives.
Battery Life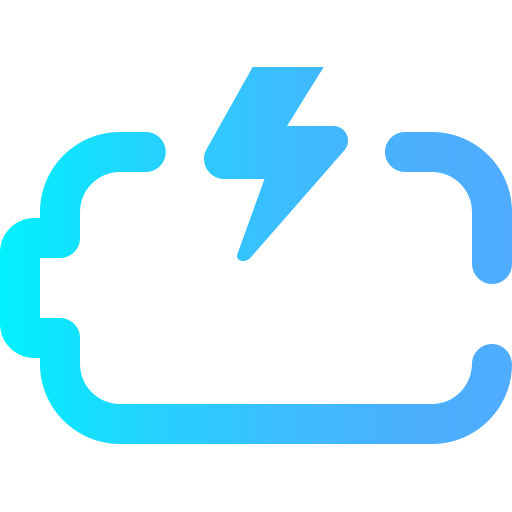 The Apple Watch Series 4 is still a single day smartwatch, unlike its competitors. You will need to recharge it every 24 hours courtesy of the super-fluidic performance and its enhanced sensors and better reception (for the Cellular model). Apple aims to deliver about 18 hrs on a single charge, but it can easily go through the entire day; although it falls short when its fitness-focused cousins – Fitbit Versa and Samsung Galaxy Watch show up, both of which last about 4 days on a single charge.
In spite of Apple increasing the battery size on Series 4, but that increase isn't significant enough to deliver a meaningful increase in battery life.
Pricing and Colors
Apple Watch – Silver, Gold, Space Gray, Stainless Steel – $399/$499/$699/$799
Nike+ variant – Silver, Space Gray – $399
Hermès variant Stainless Steel- $1299/$1399/$1499
Verdict
While the Apple Watch 4 is the best smartwatch but not just it's the newest, nor for just the display and size upgrade without much heft, but in the way Apple is pitching it – the Watch 4 is a health-focused device, something that will help you to stay healthier if you've got any serious condition or even just safeguard for your loved ones.
It isn't perfect, not by a long shot. Since it is only made to last a day since its launch, it is therefore not an ideal sleep tracker.
Now the question is, is it going to change the way we use a smartwatch? Not Really. Apple has been persistent about pushing wearables to consumers as a health-focused device. The S4 just concretes on Apple's focus on this goal, and against the backdrop of a spec-filled smartwatch industry, the Apple Watch is perhaps easily dismissable perhaps due to the lower battery life and sleep tracking alone.
It's also convenient to just get a good amount of information on how you're going about your health, the Apple Watch 4 just adds the convenience of adding to that digital picture of your daily health progression.
There's nothing terrible going on in here, but it's worth noting the slight hiccups if you're going to spend a significant amount on a timepiece like this. For someone still using the S0 or S1, we would highly recommend upgrading to the base model of the S4 and leave out the higher-end variants to those who absolutely need a more premium version of the device.