You may have a question in mind: how to unlock a t mobile phone for free? I don't mean unlocking it with your face or unlocking it with your passcode. I mean by unlocking it from the T-Mobile network.
While whenever you buy a phone straight from a carrier, whether it be T-Mobile, Verizon, AT&T, or Sprint. It's locked to their carrier network and you've got to unlock it.
When you're going to use it somewhere. So that's what I'm going to show you today in this article in a few simple steps, how to do that.
First, you may want to know what is the benefit of unlocking mobile phones.
Why does that even matter?
What can you even do with an unlocked phone that you can't with a locked phone?
When your phone is unlocked, you can use it with a new carrier, and that might be important to you. If you want to change carriers or if you want a new plan or you are looking for better coverage than your current carrier, then that can be some major reasons why you'd want to unlock your phone.
Another reason is that if you take your phone with you to a new carrier. There can be some really good advantages. Like, if you get a better carrier plan or offer than your existing carrier.
Oftentimes when people switch carriers, they think it's a great time to buy a new phone, looking to save a few bucks right now, bringing your own phone will save you a lot of money.
But, you have to unlock it to use another carrier. Now, if you're not sure, your phone works on another network after switching carriers.
Some hints to unlock a t mobile phone for free:
Newer phones (After 2017) can generally be taken to any carrier
Older phones, if it's older than 5 years. Sprint phones work just fine on the Verizon network, most of the time and vice versa, and AT&T phones work just fine on the T-Mobile network, and vice versa, most of the time.
Now, if you want to know your phone's compatibility to switch on another carrier, you can just type in your IMEI or any ID number, and you'll be able to find out if your phone is compatible with the preferred network that you want to switch to.
One last reason why you might want to unlock your phone is so that you can sell it. Now technically you can sell a locked phone but that's a crappy move and I don't highly recommend it. It is just so much easier for individuals to sell when the device is unlocked.
Because generally, people who buy a phone from a third party can't unlock it with their carrier unless the seller helps them to unlock it. Now let's jump into the main matter and learn,
Requirements for how to unlock a t mobile phone for free
T do it, you have to meet a few requirements before T-Mobile will unlock your phone free:
your phone must be bought from T-Mobile.
The smartphone cannot be declared missing or stolen. so if you are a robber reading this article, Sorry, it won't work for you.
The account should be in great condition with T-Mobile, ensuring that all your payments are made.
To unlock postpaid accounts, clients' devices must have been operating for at least 40 days.
To Unlock prepaid phones, your T-Mobile must have been opened for at least the last 12 months, if you've already spent $100 or more dollars in refills for all services on your account.
You can't have requested more than two devices to unlock within 12 month periods. Like, your Smartwatch, your tablet, or your smartphone, can't request all three at 12 months.
Your phone should be paid off completely if you buy it in installments.
If your IMEI number is not blocked. It occurs if the phone has been claimed lost or stolen, or if the phone's installment plan indicates payment defaults.
If you're from the army, there are a few requirements for unlocking your smartphone. You can have it unlocked, anytime If the account is in regular contact, and you show proof of deployment with your deployment papers, and T-Mobile verifies the documents. Now once you meet these requirements, you can request an unlock code.
How do you unlock a T Mobile Phone free?
T-Mobile has multiple phone unlocking procedures based on which operating system platform your mobile device is running. However, for all devices, you will first need to complete the following steps:
Finding the IMEI number of your phone.
Get a new SIM from the carrier you're going to switch.
Having your account details ready, like your account number.
Contact the Customer Service Department of T-Mobile and provide your details to start the unlocking process.
Check for a confirmation email when T-Mobile has accepted your unlock request.
Now, the procedures to unlock your T-Mobile phone free vary depending on if you do have an Android, IOS, or any other wireless device; Please find the solution below according to your devices.
How to Unlock T-Mobile Android Phone
When you've done receive your email confirmation, ensure your Android smartphone is connected to the web. Now do the following thing:
Google Pixel phones: Install the T-Mobile Phone Unlock application if it's not been installed on your handset.
OnePlus/1+ devices: Enter the Wi-Fi & Internet menu in the device Settings application, and choose SIM & Network.
Samsung Smartphones: Finding the Connections menu in the device Settings app, simply select More Connection Settings.
T-Mobile Phones: Just choose the Network & Internet menu in your Settings app; choose Advanced under the Mobile Network.
If you've found the correct menu for your phone, this is how to unlock your T-Mobile Android device:
Click 'Unlock Network' and select options Permanent Unlock.
Wait as your smartphone is going through the unlocking process.
If the process is done, restart your smartphone.
How to Unlock T-Mobile iPhone (iOS)
While getting the email confirmation, restore your iPhone data; it's just a wise thing to do. But, you either need it if you don't get the right request or when you're not using a SIM Card to insert into your iPhone.
When you've another carrier SIM card, please do the following steps:
Switch off your iPhone.
Simply insert the new SIM card on your iPhone.
Power on your iPhone back and follow the instructions for "First-Time Use."
Log back to your Apple Account.
Unless you do not get a set-up request or have a different SIM card from your new mobile operator:
Erase your iPhone data when you are taking back up.
Restore your iPhone; using previous backup files.
This can take 1or 2 days to be completely unlocked.
How to Unlock Other Devices on T-Mobile
If your handset is not operating on either Android or iOS system, the unlocking procedure can differ. T-Mobile provides detailed guidance for the most common smartphones and supported devices.
Select your smartphone in the T-Mobile support web portal, now browse to the "How-Tos" category, and select the Security. Search the Mobile Device Unlock Guide then, follow the instructions for you.
If your phone is not mentioned as one of T- Mobile authorized devices, contact the carrier for assistance.
How to Check Your Device Unlock Status
It is a smart idea to check the unlock status of your smartphone; both pre and post unlocking procedures. Sign in to your T-Mobile account from your laptop or browser. The T-Mobile application presently does not allow a status test.
When signed in, go to your account and select the line that you like to check. Within your smartphone information, you can test your unlock status to determine if you are still linked to the T-Mobile network.
Why should I unlock a T-Mobile Phone?
There are two major reasons mainly why someone would want to unlock one's device from the T-Mobile network: traveling abroad or moving to another network.
Advantages of Switching Carrier
If you successfully unlock your T-Mobile device even helps you to switch the carrier and take your own smartphone with you. This way, you're not going to be paying extra money to buy a new mobile device if you like the one that you currently have.
Besides that, your smartphone has to be compliant with the new mobile network, because not all networks are using similar network technologies. Unless you're transferring your unlocked T-Mobile phone towards AT&T's, you're not going to have any problems.
Both companies operate their networks using GSM technology, when your smartphone is unlocked, now insert in your newer AT&T SIM card and ready to use.
On the contrary, Verizon prefers the CDMA standard, meaning it is a less sure idea that your phone would function smoothly. Even, most of the latest smartphones are programmed to run on any network connectivity.
Therefore, if you've bought your smartphone during the past few years, you probably won't think about it. And, T-Mobile and Verizon utilizing similar 4G LTE technology, which means that your connection will be all okay.
You may have trouble if you are needed to choose Verizon's 3G network in the lack of a 4G LTE signal.
Special Tip-you can still legally access your unlocked phone on the many MVNOs available on the T-Mobile network.
International Tours
You may need to use a travel Sim Card that's why you want to unlock your T-Mobile device. If you switch from a travel sim card to a local mobile network, you don't need to pay roaming costs or pay international roaming charges.
How to Unlock T-Mobile Phone phone (Paid Method)
In this section of the article, I'm going to show you how to unlock any smartphone from tmobile Paid Method. It doesn't matter if it's a Samsung, or a One Plus, or an iPhone.
I'm trying to show everyone how to unlock your phone so that we can use it on every other GSM carrier. For example, if you want to use it with AT&T or Cricket or any other carrier.
I'm planning to show everyone how to unlock it to make your smartphone compatible with every other carrier. Now the approach we're trying to use is a little different from other free techniques.
Because the phone from T-Mobile needs to be unlocked on a different method. It has to be done remotely using the unlock app. Now, to unlock your phone, you're going to need three things:
You're going to need your computer, it can be Mac or Windows or you can even do it from a different phone as long as you have an internet connection.
Obviously, you must need your smartphone.
You will need a SIM card from another carrier. For instance, My mobile device is presently locked to T Mobile. So I'm going to use a SIM card that it's not from T-Mobile, it can be AT&T, Cricket, or any other carrier.
Again, before we start I have to mention a couple of more things:
If your phone is reported as lost or stolen or there's some kind of problem with your IMEI number, you won't be able to unlock your phone, and that this process is not going to work. So stolen phones cannot be unlocked.
This approach would also work regardless of whether your phone is already under contract. It doesn't really matter, you're going to be able to unlock it. I have unlocked many many phones this way. So it's really easy and safe, and it works most of the time.
You have to consider the fact that unlocking a smartphone is not free with the unlock application. So we're gonna have to pay some bucks to unlock your phone but trust me I have unlocked more than a hundred phones. Using this method, and it's worth every penny.
Now, let's begin. So go ahead and grab your phone, and the first thing you're gonna do is to get your phone's IMEI number.
To do this, simply dial *#06#, and you will see that your phone's IMEI number will appear on the screen of your phone. We're going to need this IMEI number in a couple of seconds, so you have to write it down nearby.
Now, go ahead and grab your computer, and I'm going to show you how to do it. Please, Log In to the Unlock River website. We're going to request their remote unlocking of this phone. So first, we're going to select the carrier and the country.
In this scenario, my device is already running in the T-Mobile United States. Then, You're going to choose a phone model. This is essentially the same practice for every other brand.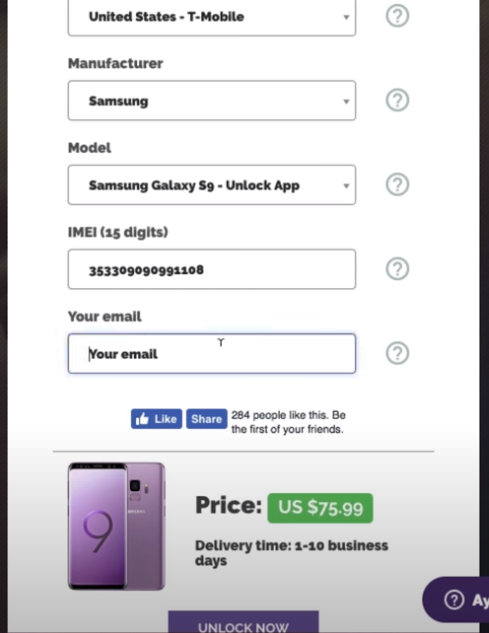 Now, this is the most critical move. And then you have to write down your IMEI 15 digit number. This is the number we obtained a couple of seconds ago. So please go forward and type it down.
Please ensure it's 100% right unless there's an error here and this approach didn't work. So, the last move is to type down your private email, you will get an email once you've done unlocking it.
So please ensure that you write it properly. Now if you scroll down, you're gonna see the price and the delivery time to unlock your android phone.
Now, this will always vary depending on your phone's brand career, and model. And these are critical processes, so you have to keep in mind that it might take a couple of days.
So you have to be very patient. So, I will now just go forward and click on Unlock Now.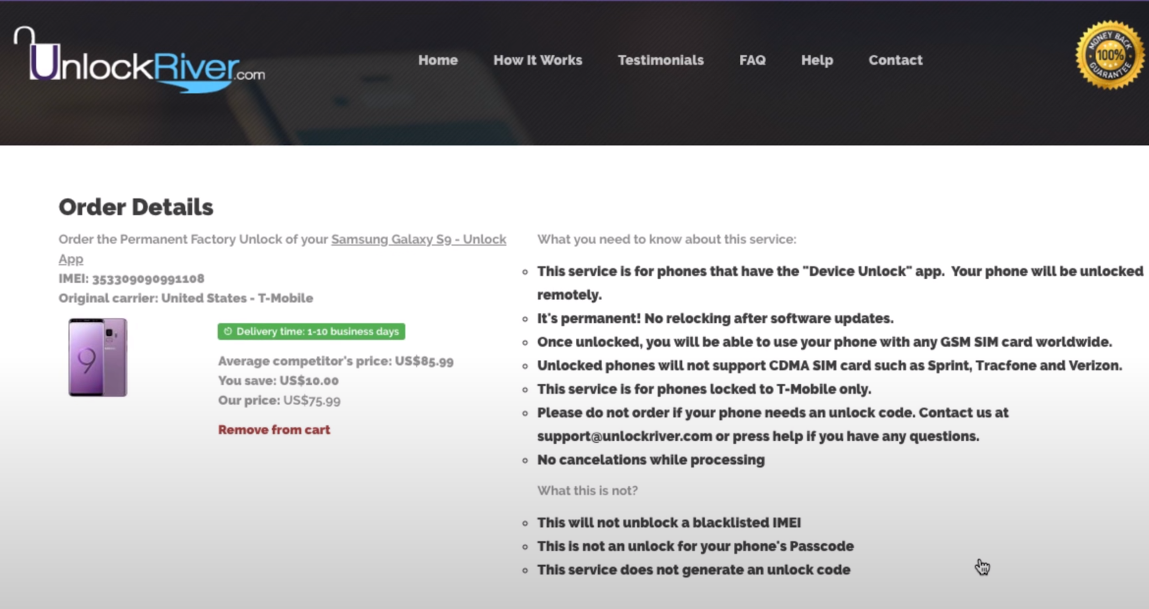 You can see a list of your request on the next screen, please review it twice. Make sure your IMEI number is 100% correct, and you make sure you read everything. But, don't worry, everything is completely safe.
As I said before, I have unlocked many many phones in this way. So I'm just going to scroll down and I'm going to place my order.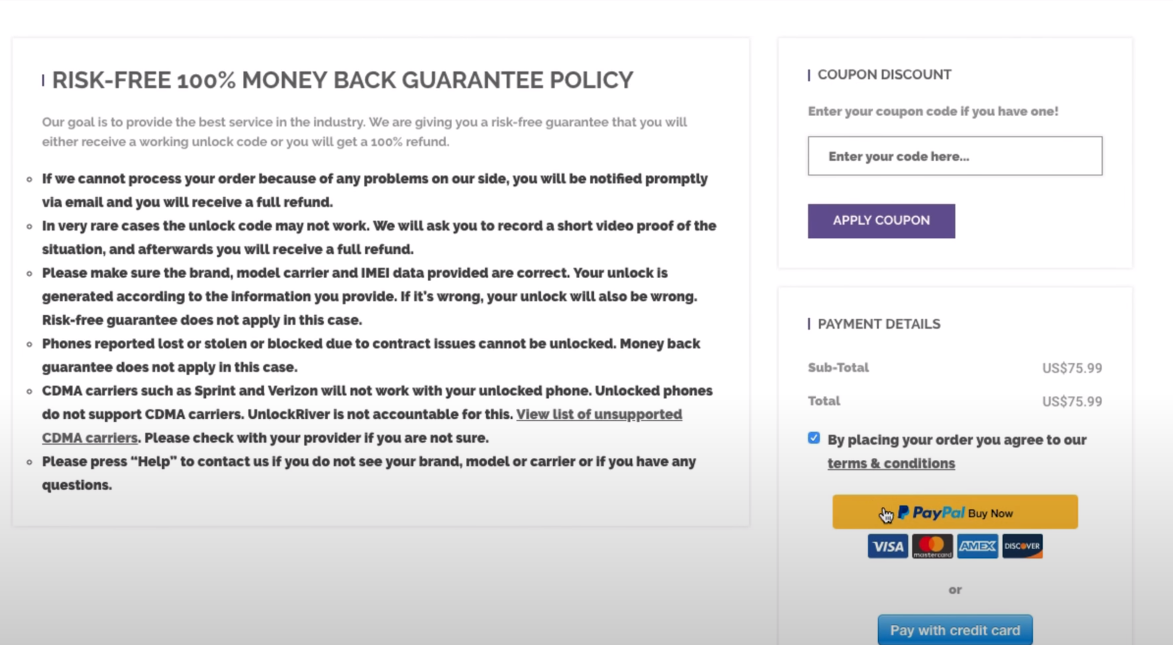 After you've put your order, you'll see a page like this, It explains quite a lot that your order has been put, and that it is now being processed.

For now, you've just got to wait. Before you get an email telling me your device was successfully unlocked. Now you have to keep in mind that most of the T Mobile mobile phones are not unlocked through an unlock code instead you're going to get an email saying that your phone was remotely unlocked.
I'm going to show you how the email will look like. So I'm showing you my personal email account information. As you can see here, I got an email from Unlock River, and it says that my phone was unlocked remotely.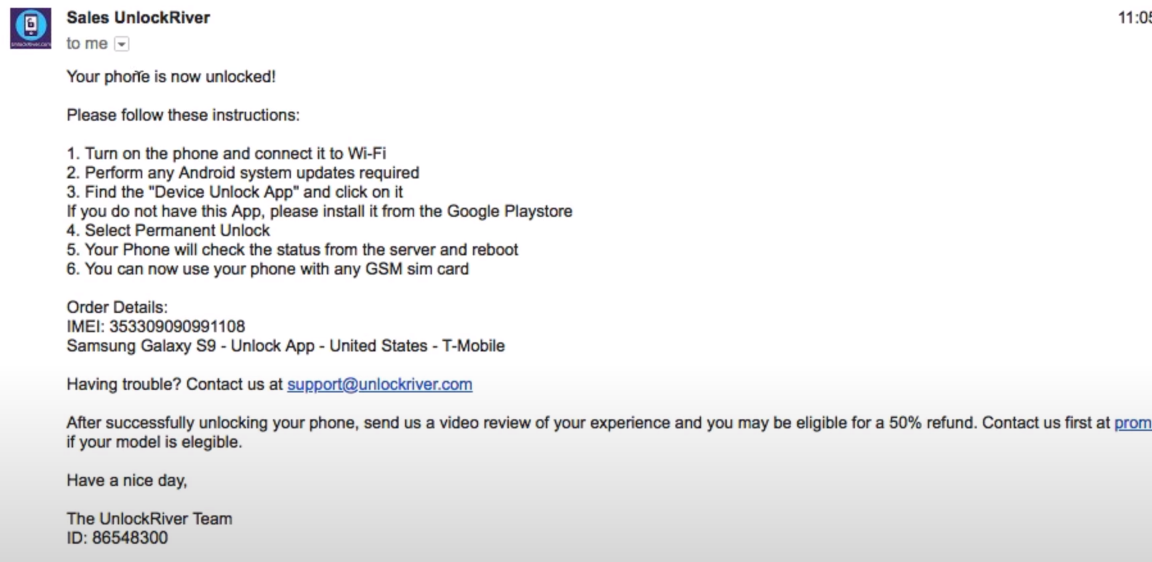 That's good news. So as you can see where you're going to get an email with step-by-step instructions on how to activate the unlock. Now, we just have to open the smartphone.
Go to unlock the application on the device. So make sure your phone is connected to Wi-Fi, and then we're going to Power off the phone. Okay, so once your phone is completely off, you have to insert a non supported SIM card.
For example, My device is linked to T Mobile, I'm going to use a SIM card from a different carrier. In this case, I'm going to use a SIM card from a carrier called Verizon.
So, I have to go forward and insert it. Then, we're going to power on the phone. It can say invalid SIM card. So that indicates my device is still locked.
In some cases, you have to insert an unlock code in the beginning, but in this case, we didn't get any message to enter the unlock code.
Now I'm planning on opening the Device Unlock app, which might already be installed on your android phone. And then we're going to click where it says permanent unlock and that will unlock the phone permanently.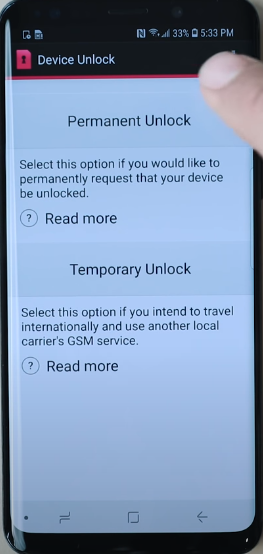 And now we got the guys, the smartphone was completely unlocked. You see on the image that your Unlocking process is Approved permanently. To trigger the settings, you have to restart your android phone.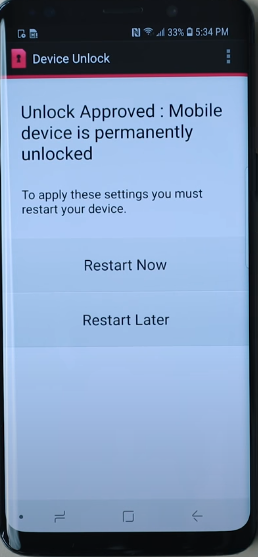 So we're now heading to hit the restart icon. When your phone's fully on, you're going to be able to use it with your new SIM card, or with any other GSM carrier worldwide. So as you can see guys I have a full signal bar.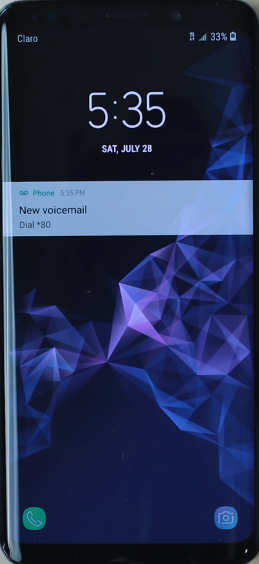 My smartphone is operating with the new carrier. So, it is the easiest paid method to unlock a t mobile phone for any carrier.
Fequently Question and Answers for How to Unlock T Mobile phone Free
FAQs:
I'm not a T-Mobile user. But, I want to move over to T-Mobile Network. Can T-Mobile unlock other carrier phones for me?
Just No. T-Mobile will only unlock the devices bought exclusively from them. This also refers to phones from T-Mobile's service MVNOs, such as Metro. You will first have to call your current carrier to unlock the phone before moving to T-Mobile.
Definition of the IMEI phone number?
IMEI Number on a phone refers to "International Mobile Equipment Identity."This is the exclusive identification code of your mobile device, kind of like your fingerprint.
Please, don't be misunderstood with the serial number of your mobile device provided and used by the manufacturing company; like Apple or Samsung, or One Plus.
IMEI is given by a multinational organization that tracks all mobile network carriers and is shared around the telecommunications industry. This accessibility allows the smartphone to be traced regardless of the carrier network on which it currently runs.
How to find my T-Mobile phone's IMEI number?
This is normally in the Settings menu of your smartphone, although you can also find it on your My T-Mobile account dashboard or via dialing *#06#.
I exchanged my phone with my warranty or insurance plan. Can I now unlock my phone, despite being new for my T-Mobile account?
… yes! Until your old mobile phone has been qualified for unlocking and you fulfill most of the other conditions. Now, for unlocking your new smartphone, you must request T-Mobile.
How do I enable a t mobile phone on a different carrier network?
Every other carrier has it's very own "Bring your own device (BYOD)" web portal to start the process of enabling the phone on their mobile network.
Please ensure you must have a SIM card from your mobile operator to start the procedure and be prepared to select a new carrier plan to finish the activation.
About T-Mobile (Mobile telecommunication company)
T-Mobile is among the "Big Four" mobile phone carriers in the United States and a major competitor in the telecommunications industry. T-Mobile USA was established in 1994 and is led by the charismatic CEO John Legere.
Network: T-Mobile has 4G LTE carrier networks which are 4 and 12 bands. These 4G LTE bands are using the frequencies:
1.1900 def
2. 1700 def
3. 700a
The T-Mobile network would mainly use the 1900 MHz frequency for mobile devices using 2G or 3G communication technologies.
Coverage: Until the last review, T-Mobile numbered #3 in total U.S. coverage. It might change, however as the company rapidly acquires spectrum in formerly uncovered regions.
How to Buy T-mobile Products: T-Mobile services can be ordered online or from one of the company's more than 3,500 Stores nationwide in the US.
Tethering: T-Mobile offers you an exclusive ONE Plan which provides you unlimited hotspot internet data up to 3G speeds. You can also add 4g LTE speed on ONE Plan.
Prepaid: T-Mobile provides a long list of prepaid packages and even owns the MetroPCS prepaid service.
Taxes & Fees: All taxes and charges are included in the price of their packages, that's why people choose T-Mobile services, because of its great advantages.
True Fact: Unlimited plans from T-Mobile have been extremely profitable. The entire telecommunications industry has arguably shifted in the path of all-you-can-use voice, text, and internet data plans.
Conclusion:
For how to unlock a t mobile phone for free, We hope both two methods will help you to unlock your T-Mobile phone. Now, it's your choice what you like: Free method or Paid. In the paid method, you can unlock not only unlock T-Mobile but also any popular smartphone, even Chinese manufacturer's phones. If you have any questions on these unlocking processes. Please, share it in the comment section. Peace.
Video of How To Unlock a T Mobile Phone for Free