The Surface Pro has been the best Windows 2-in-1 ever. It provides a useful, familiar desktop environment for multitasking in a lightweight tablet shell. But the line has not changed much physically since the Pro 4. A serious refresh is much needed, and, luckily, Microsoft is ready to show us something different. The company has thus come up with the Microsoft Surface Pro X.
Overview | Microsoft Surface Pro X
Surface Pro X is a gorgeous piece of hardware and the best Snapdragon-powered PC in the world. It provides a superior 2-in-1 experience, fast gigabit LTE access, and an excellent keyboard case for an additional $140. But the entire Windows system on Snapdragon is plagued by restricted app functionality and bugs. And, if you still need Microsoft technology to get work done on the go, Surface Pro X is a great choice. But most of the people will be better suited by either the Chromebook or just the Surface Pro 7.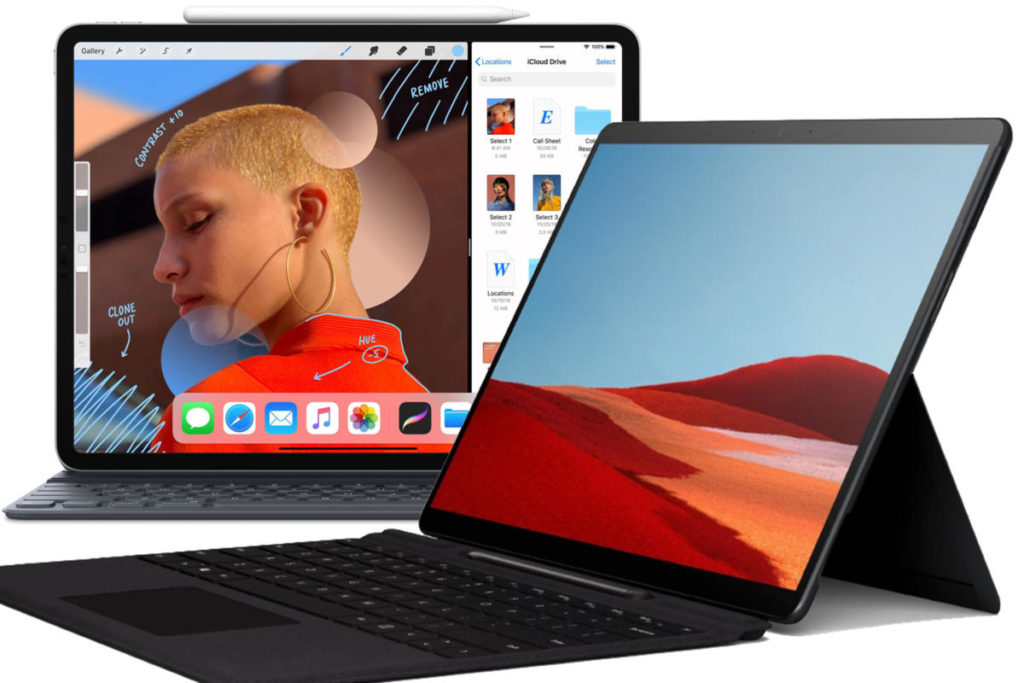 The Surface Pro X is the thinnest Surface yet, with the thinnest bezels to ever grace a Microsoft laptop. The Surface has received a significant redesign along with some hardware upgrades. It uses a bespoke chipset from Qualcomm. Microsoft claims it is the fastest ARM processor on a PC along with an embedded gigabit LTE radio. Surface Pro X is Microsoft's latest attempt to get Windows running on an ARM-powered device, after the fiasco that was the Surface RT.
Minimalist, Classy, Modern Design | Microsoft Surface Pro X
But first, let's just take a minute to think about what it looks like. This thing is splendid. The minimal bezels make it appear like a 12.9-inch iPad Pro than a Surface. The machine is also impressively thin, 5.3 mm thick, and measures only 1.68 pounds or 762 grams. There's still a convenient kickstand built-in that can rotate almost 180 degrees. As such, the Pro X can be pushed at a remarkably shallow and efficient 15° angle. Considering its small footprint, the Pro X feels super robust and stylish and like a more luxurious device than the Pro 7.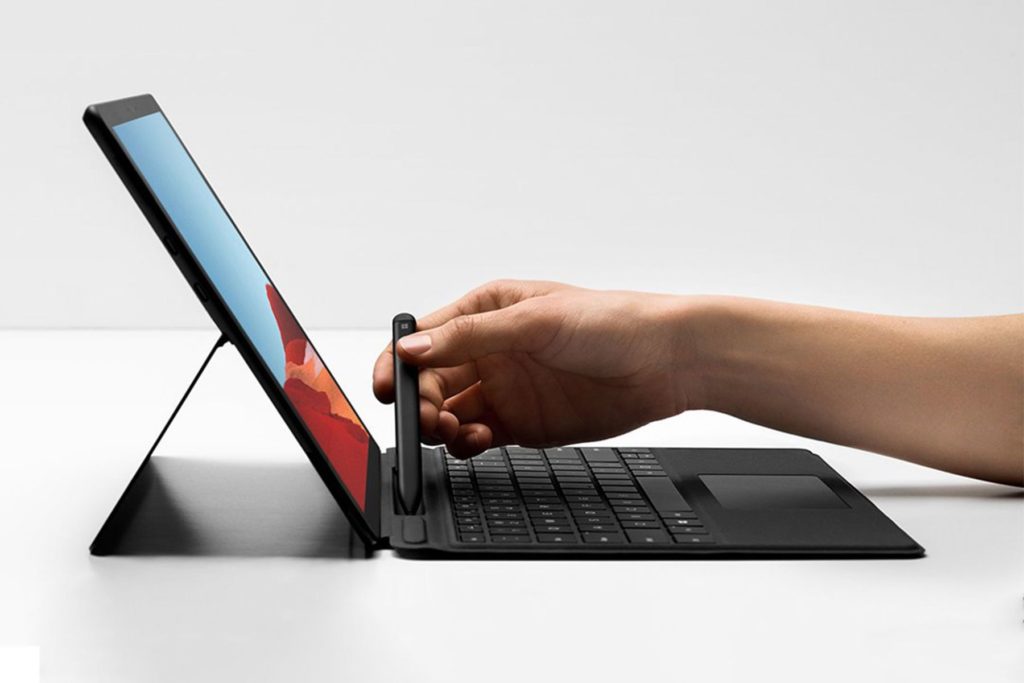 It's unusual that, despite its slim profile, the Surface Pro X still offers a good selection of ports. You get two USB-C options and a slot for Microsoft's proprietary edge power adapter. There is also a SIM and microSD card slot under the kickstand. You could recharge the Pro X using the USB-C connection as well as the company's dedicated port. But no headphone jack can be found.
Display & Audio | Microsoft Surface Pro X
The smaller bezels and the 3:2 aspect ratio on the 13-inch Pro X panel make it feel more spacious than the Pro 7 too. At 12.3″, the screen is a little smaller, but both models have the same pixel density. The Pro X runs at 2,880x 1,920, and most of the videos and images appeared bright and colorful on the screen. Audio, on the other hand, was a little toned down. We've been listening to some podcasts through the tablet speakers, and we've found the voices a little tinny. The actors in several Netflix series even sounded canned. It's not a dealbreaker, but if you're looking for a warm, rounded sound, you're going to need to hook up your earphones.
New Lower-Profile Pen | Microsoft Surface Pro X
Microsoft has created a new stylus dubbed the Slim Pen to go with the Pro X. It will cost you an additional $145. It's a flattened version of the original Surface Pen, with a button at the top that you can press to take screenshots or double click to start the Whiteboard app. Despite the weird shape, the Slim Pen is easy to hold and sketch. Also, writing with it was as smooth as the rounder stylus.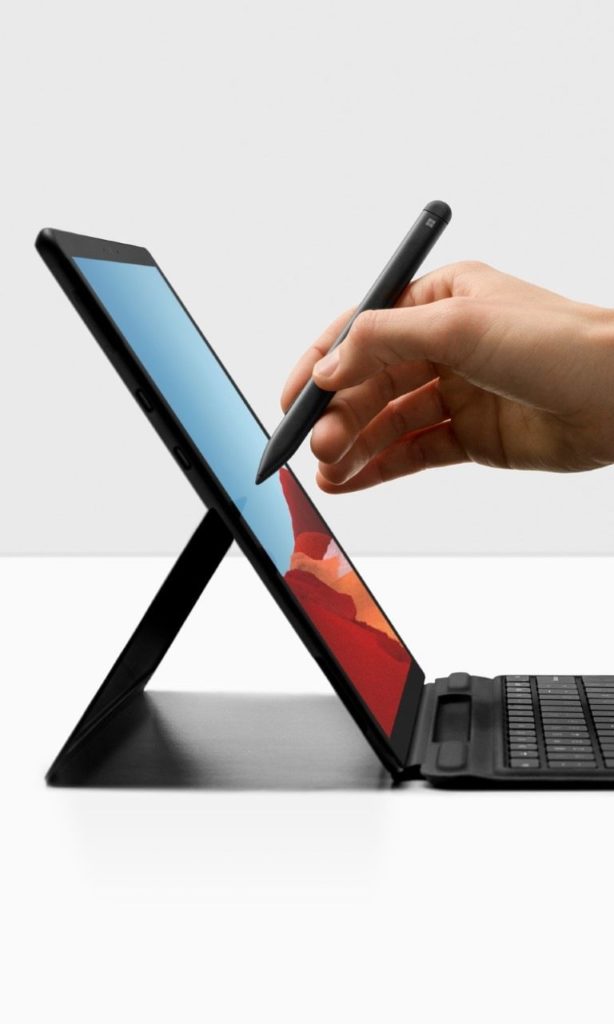 Due to its smaller shape, the Slim Pen will fit into a groove cut into the new Signature Keyboard cover that you can get with the Pro X. But the new case is priced nearly twice as much at $140.
So, let's do some math. If you want a Slim Pen and a keyboard cover that can tuck away and charge it, get ready to shell out $270 for the package. Applying that to the tablet's $999 cost, and you've to pay $1,270 for the complete package. And that is assuming you're ok with the Pro X base model. Well, the iPad Pro 12.9 has the same starting price (though with less storage), and Apple's less convenient keyboard folio is more expensive than $199. But at least you can use the iPad as a laptop without a keyboard and still enjoy the experience. The Apple Pencil is at least $20 cheaper than the Surface Slim Pen, depending on the model.
Microsoft continuing to charge a premium for the keyboard is unfair since you won't want to use Windows on your device without it.
Keyboard and Trackpad | Microsoft Surface Pro X
The consolation is that at least you're going to get a superior typing case for the cost. Microsoft makes the best tablet keyboard in the business, and the Pro X model is just as convenient and well-spaced as some notebooks. There's a lot of travel here, and if not for a somewhat hollow feel, the keyboard would feel better than the typical ultraportables like the MacBook Air and the Galaxy Book Flex.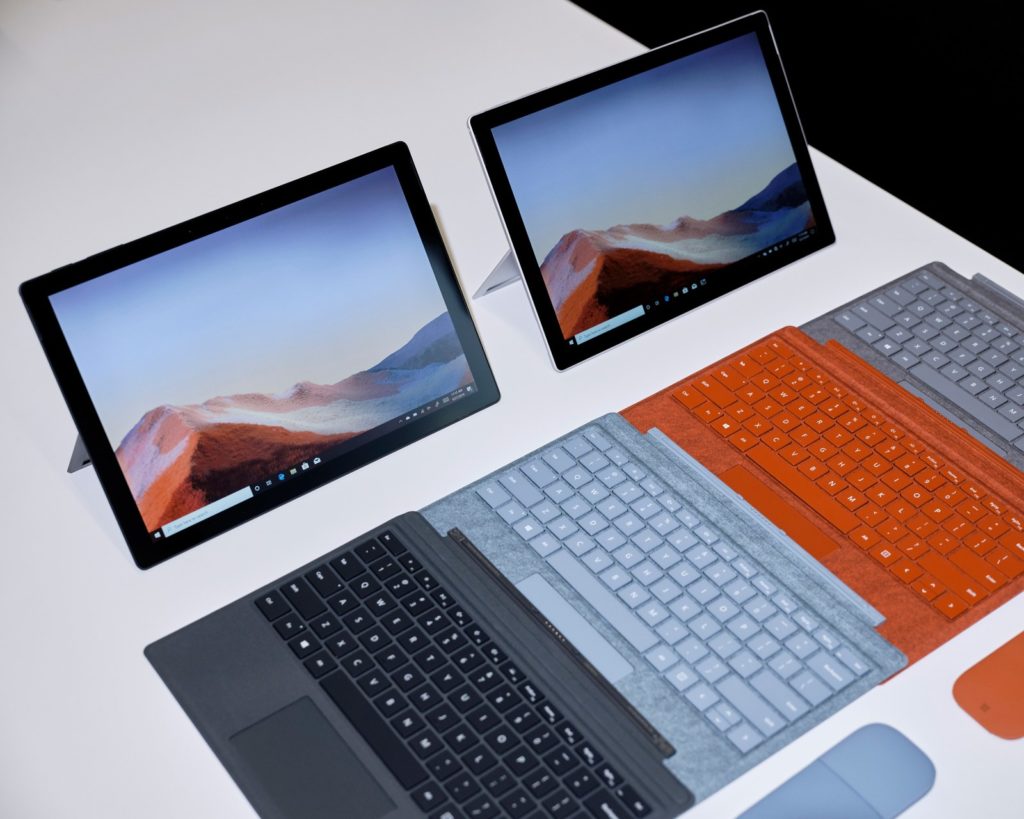 As for the trackpad below, it is responsive and seamless. Although, as with most type covers, we wish the trackpad was slightly bigger.
Performance | Microsoft Surface Pro X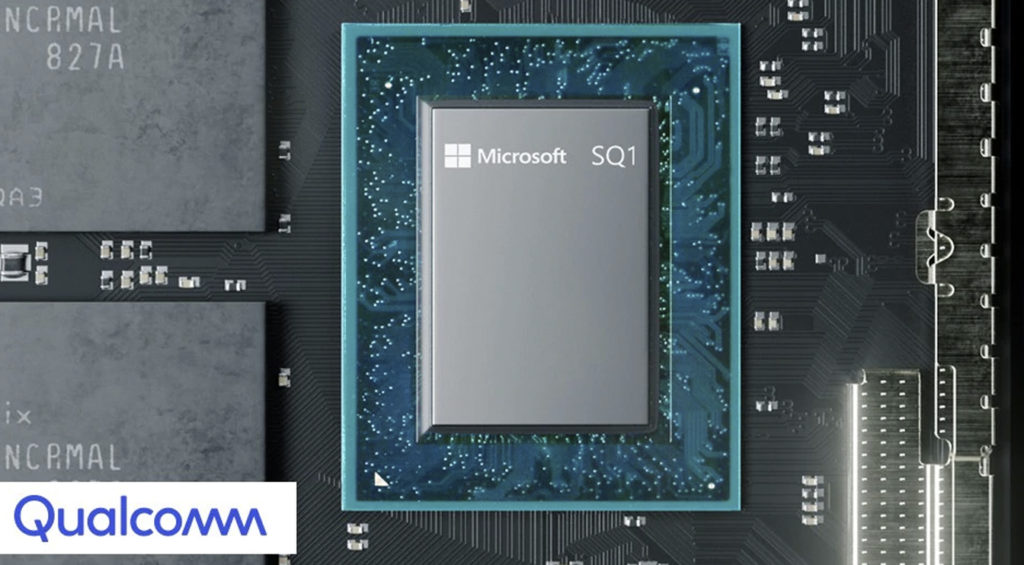 There's a lot to love about the hardware of the Surface Pro X, but we've been more concerned about its performance. The 3GHz ARM-based SQ1 processor that Qualcomm has built for Microsoft is promising. But Windows on Snapdragon has limited device support, which makes it difficult to prescribe. Older Snapdragon PCs like ASUS NovaGo and HP Envy X2 annoyed us because there's a substantial system-wide delay. Since then, Microsoft has enhanced application performance and launched ARM64 support for faster programs.
3DMARK11
ATTO (TOP READS/WRITES)
Surface Pro X
(Microsoft SQ1)
1,998
1.85GB/s | 775MB/s
Surface Pro 7
(Core i5-1035G4, Iris Pro)
2,609
1.79GB/s | 750MB/s
Surface Pro 6
(Core i5-8250U, Intel UHD 620)
2,008
1.5GB/s | 660MB/s
Fast and Durable LTE Connectivity
This is probably one of the best things about having a mobile SoC powering a PC. An always-on connection with mobile data instead of trying to find public Wi-Fi hotspots means that you can work from just about anywhere you have an LTE signal. Moreover, the inclusion of the Snapdragon X24 LTE modem within the SQ1 chipset helps in achieving some terrific LTE transfer speeds with little to no signal drops. It is possible to get a lot of work done and still stream videos.
Battery Life
| | BATTERY LIFE |
| --- | --- |
| Surface Pro X | 11:45 |
| Surface Pro 7 | 7:50 |
| Surface Pro 6 | 15:34 |
| iPad Pro 12.9 (2018) | 11:30 |
| Galaxy Tab S6 | 15:08 |
Microsoft does promise 13hrs of normal usage on the Surface Pro X, which is almost accurate. The Pro X outperforms the HP Envy X2, the Surface 7, and the iPad Pro by a graceful margin.
Wrapping it up
Quite frankly, we really do not know what to make of the Surface Pro X. It is a gorgeous piece of machinery that showcases Microsoft's engineering prowess. So, when the Pro X works without issues, it is a fantastic experience. But occasional bugs and crashes, compatibility issues remain.
Microsoft is pitching the Surface Pro X to mobile workers who spend most of their time on a web browser and some productivity apps. Sure, but asking people to shell out $1,140 for something that is still buggy and might not run all the apps is shocking. Some Chromebooks are just as good at handling browser-based apps and cost less than half. But, if you fall into the category of the few who need access to Windows Apps, the Surface Pro X is adequate. Although, do keep in mind that you'll be paying a hefty premium for Windows with an LTE connection and beautiful hardware.
Do share your thoughts regarding the post in the comments section below. If you liked the content, please show your support by visiting and Following us on our Facebook and Twitter accounts.