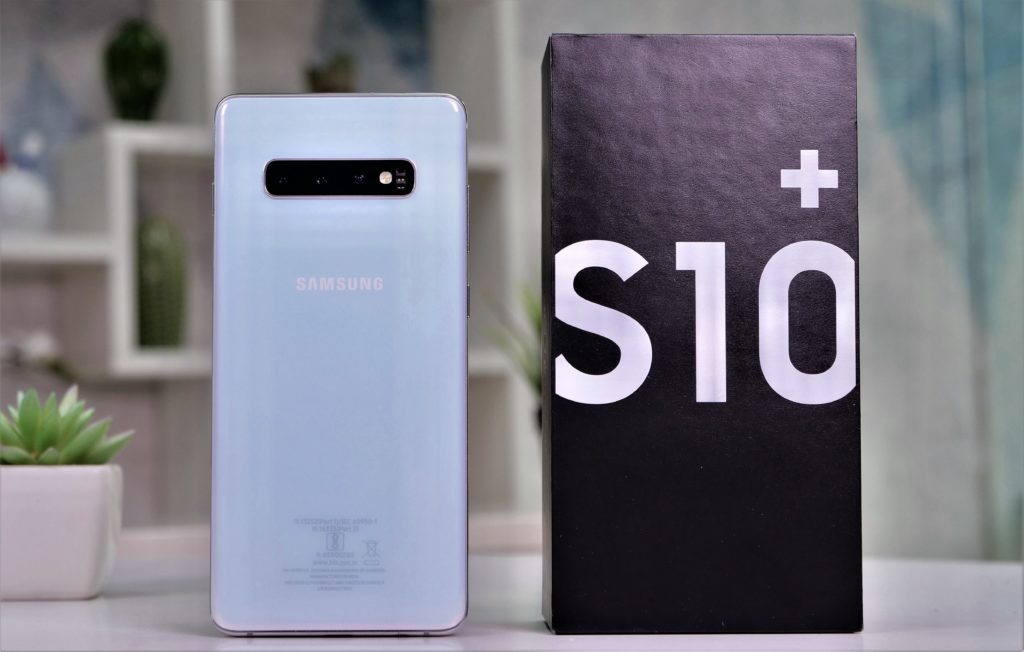 The Samsung Galaxy S10 Plus was the first major flagship to be launched in 2019. It clearly is one of the best smartphones for this year. I am saying this even though the Samsung Galaxy S10 5G is here along with Huawei's P30 Pro. Huawei's P30 Pro gives much heat with its four cameras that might exceed the S10 Plus' imaging skills. Even though the S10 Plus isn't without its faults, but the 6.4-inch of AMOLED goodness, all-day battery life, a combination of three cameras and a somewhat gimmicky wireless power-sharing feature are in my opinion – stellar.
It also doesn't hurt that the S10 Plus is the only offering out of 4 from the S10 lineup to have a 1TB option. Also, depending on your choice, you can also opt for a ceramic finish on the 512GB and 1TB models. Now all you have to do is ask yourself – Do I really need that much storage? Do I really need the ceramic finish? Saying that you "need" it would be a bit of a stretch, but then again if you really want it, it's nice to know that its there. Clearly, Samsung made the Plus its No. 1.
At $1000 for the 128GB model, $1250 for 512GB and an eye-watering $1600 for the 1TB storage version, this is a very costly device. Considering the Huawei Mate X's $2600 price tag, the S10 Plus seems almost reasonably priced. As for the standard Galaxy S10, sacrificing a second front-facing camera, a little screen estate, and a little battery life is not worth a price gap of only $100.
Comparisons
| | Samsung Galaxy S10 Plus | LG V50 ThinQ (5G) | Google Pixel 3 XL | iPhone XS Max |
| --- | --- | --- | --- | --- |
| Display size, resolution | 6.4-inch AMOLED; 3,040x1,440 pixels | 6.4-inch OLED; 3,120x1,440 pixels | 6.3-inch "flexible" OLED; 2,960x1,440 pixels | 6.5-inch Super Retina OLED; 2,688x1,242 pixels |
| Pixel density | 522ppi | 564ppi | 523ppi | 458ppi |
| Dimensions (inches) | 6.20 x 2.92 x 0.31 in | 6.26 x 3.0 x 0.33 in. | 6.2x3.0x3 in | 6.2x3.0x.3 in |
| Dimensions (millimeters) | 157.6 x 74.1 x 7.8 mm | 159.1 x 76.1 x 8.3 mm | 158x76.7x7.9 mm | 157.5x77.4x7.7 mm |
| Weight (ounces, grams) | 6.17 oz.; 175g | 6.46 oz.; 183g | 6.5 oz; 184g | 7.3oz; 208g |
| Operating System | Android 9.0 with Samsung One UI | Android 9.0 Pie | Android 9.0 Pie | iOS 12 |
| Camera | 16-megapixel (ultrawide-angle), 12-megapixel (wide-angle), 12-megapixel (telephoto) | 12-megapixel (standard), 16-megapixel (wide-angle), 12-megapixel (telephoto) | 12.2-megapixel | Dual 12-megapixel |
| Front-facing Camera | 10-megapixel, 8-megapixel | 8-megapixel (standard), 5-megapixel (wide) | Dual 8-megapixel | 7-megapixel with Face ID |
| Video capture | 4K | 4K | 4K | 4K |
| Processor | Octa-core Qualcomm Snapdragon 855 | Octa-core Qualcomm Snapdragon 855 | Octa-core Qualcomm Snapdragon 845 | Apple A12 Bionic |
| Storage | 128GB, 512GB, 1TB | 128GB | 64GB, 128GB | 64GB, 256GB, 512GB |
| RAM | 8GB, 12GB | 6GB | 4GB | 4GB |
| Expandable storage | Up to 512GB | 2TB | None | None |
| Battery | 4,100 mAh | 4,000 mAh | 3430 mAh | 3174 mAh |
| Fingerprint sensor | In-Screen | Back | Back | None (Face ID) |
| Connector | USB-C | USB-C | USB-C | Lightning |
| Headphone jack | Yes | Yes | No | No |
| Special features | Wireless PowerShare; hole punch screen notch; water resistant (IP68); Fast Wireless Charging 2.0 | 5G connectivity; water resistant (IP68); wireless charging, Quick Charge 3.0 | IPX8, wireless charging support, Pixel Buds USB-C headphones in the box | Water-resistant (IP68); dual-SIM capabilities (nano-SIM and e-SIM); wireless charging; Face ID; Memoji |
| Price (Unlocked) | $1,000 (128GB); $1,250 (512GB); $1,600 (1TB) | No unlocked version available. $1152 on Sprint Pre-Order | $699 (64GB); $799 (128GB) | $1,099 (64GB), $1,249 (256GB), $1,449 (512GB) |
For comparison with other phones, I wouldn't go as to upgrade from the Galaxy S9 Plus, but I would if I had an older generation Galaxy. The conclusion is that you will have more flexibility in general with camera shots on the S10 Plus than the Pixel 3. Then again, Night Mode is an exception, which both the Pixel 3 and Huawei's P30 Pro have dedicated night modes that easily outdo the Galaxy S10 Plus by some margin. So if nighttime photography is a must-have feature for you, you may better want the Pixel 3 or Huawei's P30 Pro. Or if you keep your fingers crossed, maybe Samsung will push out a software upgrade for the night mode.
For me, low-light shots aren't a deal-breaker, especially when the S10 Plus offers so much more. But, if Samsung somehow did manage to match the night mode performance with the others, the S10 Plus would be the undisputed champion across the board. As it stands, for now, the Samsung Galaxy S10 Plus is an excellent device that I'd be happy to use every day and I think you would too feel the same way.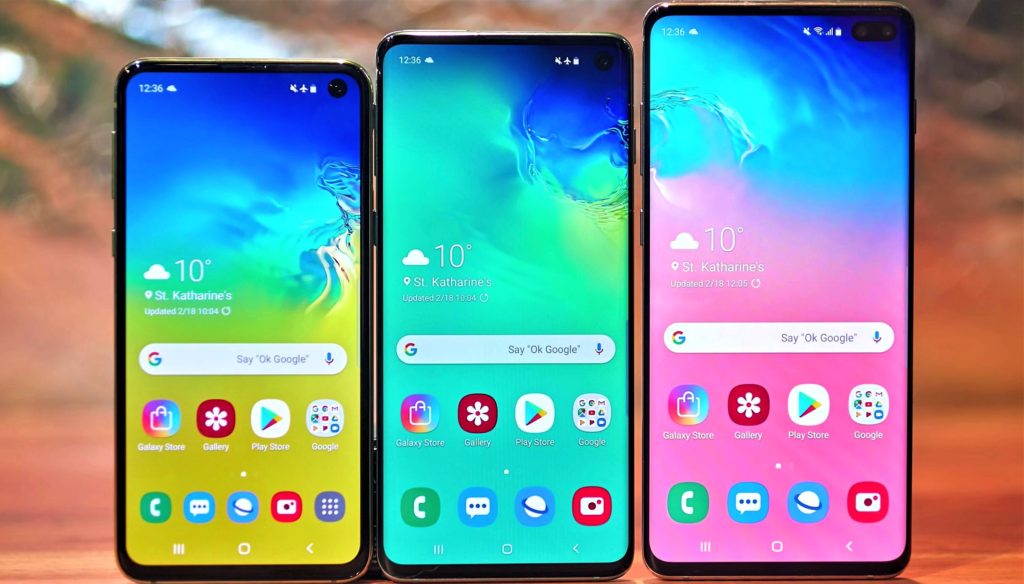 Samsung Galaxy S10 Plus | Specifications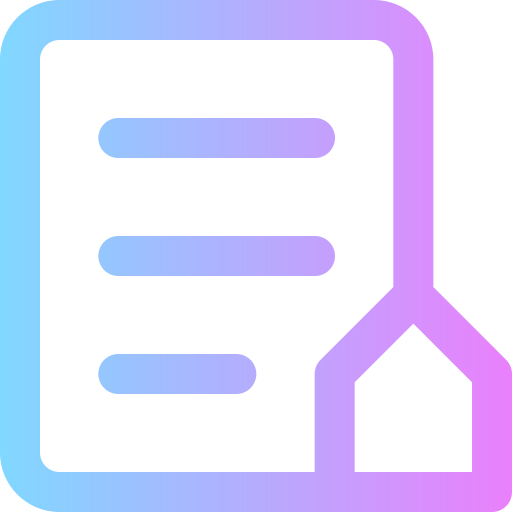 OPERATING SYSTEM
Android 9.0 Pie (One UI)
DISPLAY
Dynamic AMOLED
6.1 inches1440 x 3040(~550ppi)
HDR10+
Always-On display
PROCESSOR
Qualcomm Snapdragon 855 (7nm)
(1 x 2.84Ghz Kryo 485, 3 x 2.41Ghz Kryo 485, 4 x 1.78Ghz Kryo 485)

Exynos 9820 (8nm)
(2 x 2.73Ghz Mongoose M4, 2 x 2.31Ghz Cortex A75, 4 x 1.95Ghz Cortex A55)
RAM
8GB/12GB
GPU
Adreno 640
Mali G76 MP12
INTERNAL STORAGE
128/512GB and 1TB
USB
3.1
Type-C 1.0 Reversible Connector
WLAN
802.11 a/b/g/n/ac/ax
Dual Band
BLUETOOTH
5.0, aptX support
NFC
Yes
BATTERY
4100mAh
15W Fast Charging
15W Fast Wireless Charging
9W Reverse Wireless Charging
PRICE (UNLOCKED)
$999/$1249/$1599
For Carrier Pricing Visit: Here
Samsung Galaxy S10 Plus | Design

The Samsung Galaxy S10 Plus' design is new and old surprises. This includes the aluminum frame, which is now thinner than that of the S9 Plus, and but still sandwiched between smooth Gorilla Glass 6. There are now 3 main colors to choose from – Prism Black, Prism White, and Green. Also, the 512GB and 1TB variants are available with a ceramic back in either white or black. Right away you will notice after getting the phone into your hands that the S10 Plus has a tendency to slip out of the hands. It also has the tendency to slip off surfaces that are not perfectly level.
Coming to the back, you will notice that the Samsung Galaxy S10 Plus is almost flush. A triple-lens camera array with a very subtle bump outlining can be seen. Though you will not be able to see the reverse wireless charging module below the camera bump. With roughly the same dimensions of the S9 Plus, it surprisingly feels better in-hand and is easy to hold in the hand for a 'Plus' sized phone. On the left side sits the volume rocker button above the Bixby button, and on the right side is the power button albeit a bit high for one-handed usage. 
Samsung remains one of the few manufacturers that still haven't ditched the 3.5mm headphone jack from their flagships. Although what is surprising is that Samsung is trying to sell its wireless Galaxy Buds without removing this feature. That right there is a power move that shows other manufacturers that Samsung went with a consumer-friendly design choice.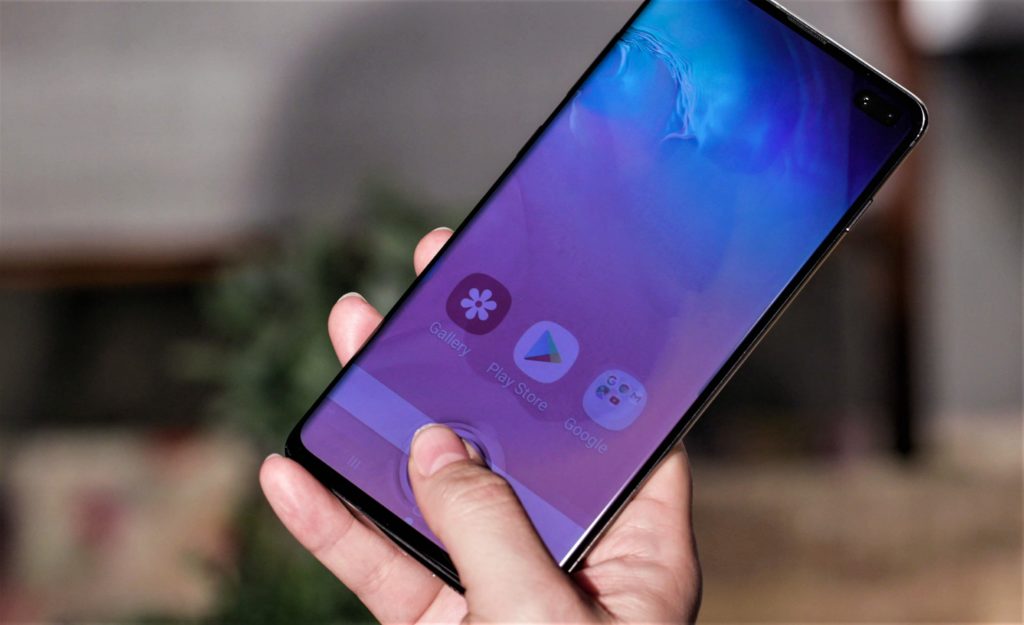 Samsung Galaxy S10 Plus | Display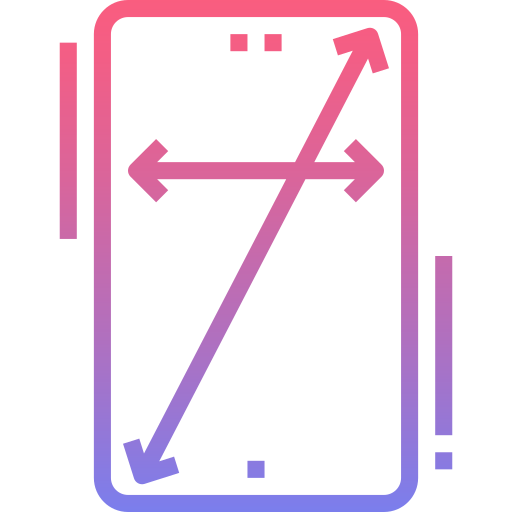 The 6.4-inch Super AMOLED display on the Samsung Galaxy S10 Plus makes this phone the biggest ever in the S series. While it does match the Note 9 in terms of size, it's actually a lot better. With a screen-to-body ratio of 93.1%, the S10 Plus fits more pixels in a smaller body. Samsung's new Infinity-O display avoids the notch. It does so by opting for a laser-cut punch-hole in the upper right corner of the screen. The hole houses the two front cameras, which makes the punch-hole significantly larger than the S10 and S10e, which have a single front camera. 
The display is set to FullHD+ resolution by default, but you can crank it up to QHD+ and it is pin-sharp with HDR10+ for superb contrast and color reproduction. That's an important factor if you are an avid movie watcher on your phone. 
Most of the time the hole blends into the background, but when the screen is fully lit with a white background, the asymmetrical pill-shaped cutout becomes more noticeable. The screen has a resolution of 1440×3040 pixels, outdoor visibility is a non-issue.
After almost two years of complaining, Samsung listened to their fans and released software to let you remap the Bixby button to open another app. The capability had always existed, even Galaxy S Active phones from the last few years back let you set your convenience key – but Samsung was hesitant. It's nice to see that Samsung has now gone ahead and done the right thing again.
In-screen fingerprint sensor
The fingerprint sensor is another feature that performs an invisible task, taking a 3D scan of your fingerprint. It's way more accurate than anything Huawei or OnePlus offers with their Optical in-screen scanners, even with wet fingers. But, it has a downside, i.e., slower speed and the fact that more pressure is required. Since there are no ridges present to guide your fingers to the exact location of the scanner, you will need to learn the location in time.
Although, these issues can be avoided if you opt for the face unlock feature, which is in fact much faster. The only issue? It's less secure.
Samsung Galaxy S10 Plus | Camera

Triple lens camera for normal, telephoto and ultra-wide photos
The 12.3MP main camera takes excellent shots that rival the Pixel 3
Ultra-wide is fun to have, even though it's not exactly on point at times
New 'Live-focus' portrait filters like color point are fun to use
| | Samsung Galaxy S10E | Samsung Galaxy S10 | Samsung Galaxy S10 Plus | Galaxy S10 5G |
| --- | --- | --- | --- | --- |
| 12-megapixel wide-angle lens (dual-aperture) | Yes | Yes | Yes | Yes |
| 16-megapixel ultrawide-angle lens (fixed focus) | Yes | Yes | Yes | Yes |
| 12-megapixel telephoto lens | No | Yes | Yes | Yes |
| 10-megapixel front-facing camera (dual-aperture) | Yes | Yes | Yes | Yes |
| 8-megapixel front-facing camera | No | No | Yes | No |
| 3D depth-sensing camera (rear) | No | No | No | Yes |
| 3D depth-sensing camera (front) | No | No | No | Yes |
Samsung Galaxy S10 Plus | Overview
The Samsung S10 Plus includes a versatile triple array, comprising of a 12MP regular lens, 12MP telephoto lens, and a new 16MP ultra-wide lens. Samsung was a little too late for the dual camera party. The telephoto module appeared just last year with the debut of the Galaxy S9+, but it's catching up with the trend, fast. With the introduction of the Galaxy S10 and Galaxy S10+, Samsung has gone ahead and added an ultra-wide-angle camera at the back. It is now a truly versatile and complete setup.
The ultra-wide-angle camera covers a field of view of 123 degrees, which translates into an equivalent of 12mm focal length in 35 mm film terms. To be frank, it is VERY wide. The lens has an aperture of f/2.2 with a fixed focus (no autofocus sadly). 
The other two cameras are identical to the S9+ and Note 9. The primary module is the same 12MP sensor with dual-pixel phase-detect autofocus. It has a dual aperture lens in front which allows it to switch between f/1.5 and f/2.4 depending on the lighting. 
There's also a new bright mode that Samsung is touting to improve low light performance. But it's not on par with the Pixel lineup or Huawei's Mate or P lineup.
Front Camera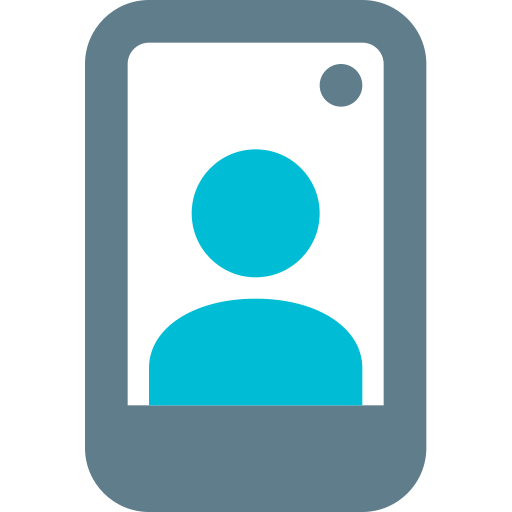 Over at the front, you will find dual selfie shooters. The S10 Plus gets a dual 10MP + 8MP sensor with an aperture f/1.9 lens and f/2.2lens respectively. The 8MP comes into play for enhancing depth which allows for better Live Focus portrait photos. The second one though is only a depth sensor while the primary 10MP is the same as the S10. That is, it has PDAF.
Interface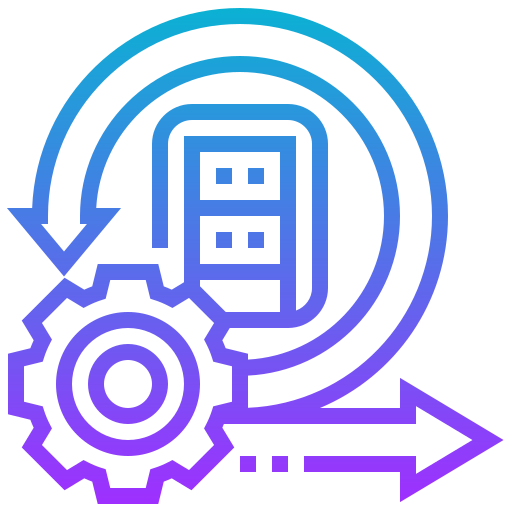 Over the years Samsung's TouchWiz morphed into GraceUX and later simply Samsung UX.
The latest iteration of Samsung's UX is called One UI.
It's characterized by rounded menus and buttons, focus on single-handed use, and colorful icons.
There's a system-wide dark theme.
Always-on display, double-tap to wake and show always-on display.
Easier notification shade access.
Mixed feelings on the half-baked execution of gesture navigations.
Triple press home to get to one-handed mode.
Samsung's One UI makes it easy to reach menus on big phones
Bixby AI is actually more annoying, mostly due to the Bixby button
Some continuity apps from Samsung might help.
Performance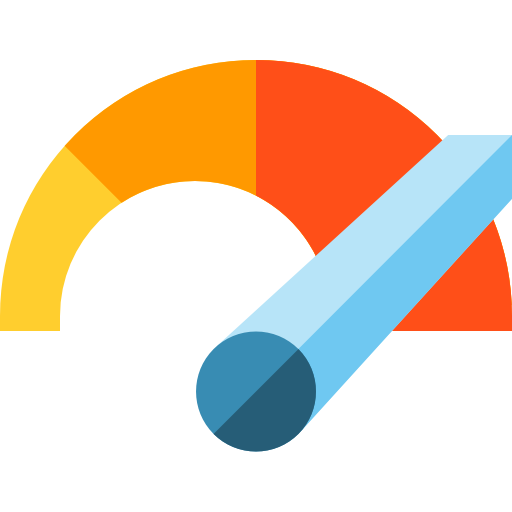 The Samsung Galaxy S10 Plus is powerful enough to compete with the other offerings out there. It comes with top of the line specs. You get a Snapdragon or Exynos chipset depending on where you live. In the US, it ships with the Snapdragon 855 chipset whereas in most places it ships with Exynos 9820. It comes with double the RAM. Up from last years' 4GB to 8GB for this year. Also if you are feeling bold enough, you can always choose the 12GB/1TB variant.
Also, this is the first phone with next-gen Wi-Fi 6, which allows for a seamless transition between Wi-Fi routers and is 4x faster than the 802.11ax standard.
Battery Life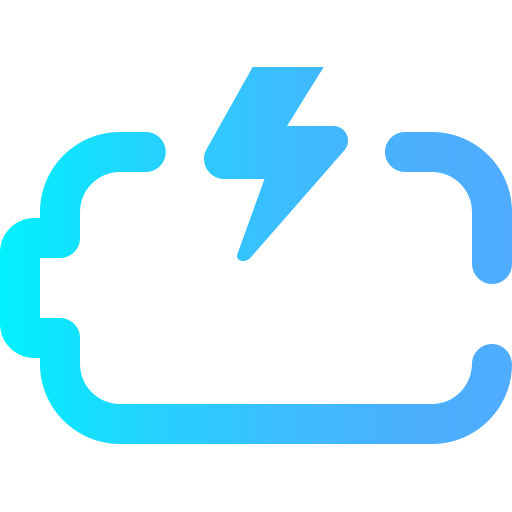 The battery life has hit a new high for the S series with a capacity of 4100mAh on the Galaxy S10 Plus. Samsung did claim an 'all-day or a bit more battery life', maybe just to play a bit safe. With moderate usage, it is easy to end the night with an impressive ~25-30% battery left.
Although if you start enabling some additional features on the Galaxy S10 Plus, the battery life is going to take a hit. Namely, always-on-display and changing from FullHD+ to QHD+ resolution. The S10 does come with a host of power-saving modes with the most aggressive one being – maximum power saving – which locks down the interface to just a few key apps.
Samsung's new Powershare feature turns the back of the S10 Plus into a big Qi charging mat, which is nice if you are feeling generous. It works flawlessly with any compatible Qi charging device. Samsung hasn't shown any favoritism in this aspect. Also knowing that the Powershare feature turns off when your phone is down to 30% gives some comfort.
Price & Colors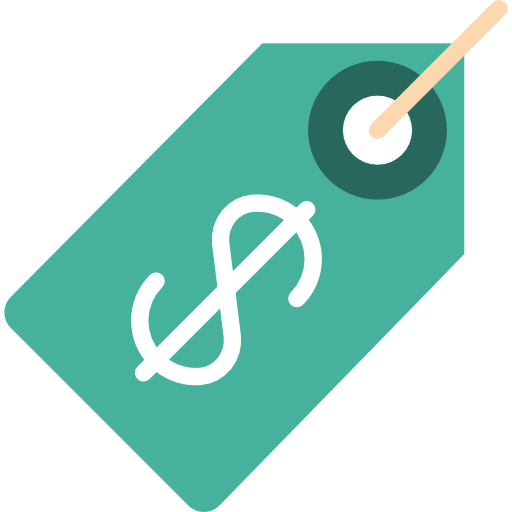 Price – $999/$1249/$1599 – 128GB/512GB/1TB
Colors – Prism White, Prism Black, Prism Green, Prism Blue, Canary Yellow, Flamingo Pink, Ceramic Black, Ceramic White, Cardinal Red, Smoke Blue
Verdict
In spite of the previous-gen S9 and S9+ being extremely good smartphones, the S10 and S10+ improve upon them by a sizable margin.  And now, Samsung has yet again set a very high bar. The display itself a benchmark of the industry on its own. All of this comes with Samsung's best yet implementation of Android (One UI). It is a near-perfect phone, except maybe the controversial in-display fingerprint scanner. And although the crown of the best smartphone camera belongs to Pixel 3, the S10 Plus is in fact on par in most of the camera aspects except the night mode. 
Without a doubt, then, the Samsung Galaxy S10 Plus is the Best Smartphone you can buy in 2019, with minimal to no-compromises at all.