Just a few moments ago at "made by Google 2019" event in New York, Google launched the latest Pixel lineup, namely – Pixel 4 and 4 XL. And though today's launch event included many other product launches, the Pixel 4 lineup was the primary highlight. Many of the rumors and leaks that have previously shown up from different sources, well, we can now confirm that most of them were correct. While this article primarily focuses on the Pixel, it'll also cover the other products that launched at today's event. Now, let's take a deeper look at what got revealed and where can you get your hands-on.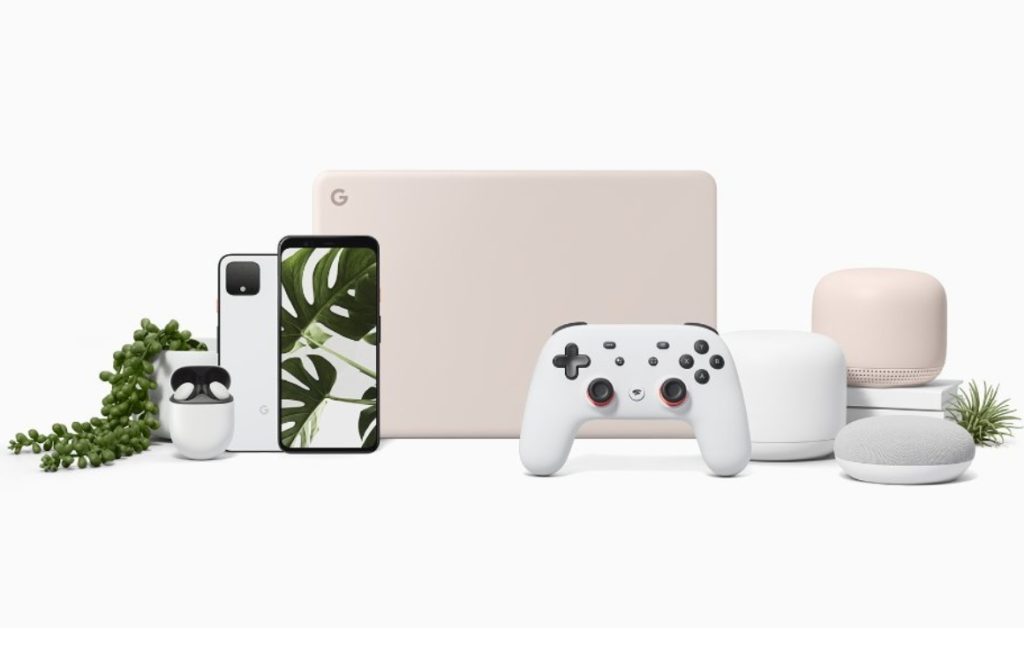 Google Pixel 4 | Made by Google 2019
The Google Pixel 4 was by far the most anticipated product of the entire launch event. The Pixel 4 houses a 5.7" FHD+ P-OLED display at ~444ppi. Whereas the 4 XL has a 6.3" QHD+ P-OLED display at ~537ppi. Both the displays are HDR compliant, have a 90Hz refresh rate, and have an aspect ratio of 19:9. The phones are also very similar designs and build-wise to their predecessors. The memory gets updated to 6GB of RAM across the lineup while storage remains stagnant at 64GB and 128GB options.
Cameras & Internals
The internals gets updated to the new Qualcomm Snapdragon 855 chipset. While the Pixel Neural Core and Titan M security modules remain the same.
Coming to the cameras, the Pixel 4 lineup now boasts of a dual-camera setup at the rear. The Primary camera retains the 12.2MP sensor but gets a slightly brighter f/1.7 aperture lens. The second camera is an all-new 16MP sensor sitting behind an f/2.4 aperture telephoto lens that supports 2x Optical Zoom. Both the cameras have OIS and PDAF as standard.
Now coming to the front of the Pixel 4 lineup reveals an updated camera setup. While the 8MP sensor remains the same, it gets a bit dimmer at f/2.0 (down from f/1.8), but it is now wider at 22mm (up from 28mm). Next to the 8MP front camera, now sits a TOF 3D camera in place of the previously secondary 8MP shooter. What's also strange is that Google somehow ended up deciding to remove PDAF for the front camera on the Pixel 4 lineup.
What's new though at the front is a radar for Motion Detection which works pretty accurately with hand gestures as shown at Made by Google 2019. This mini sensor is present right beside the front cameras. The radar works in conjunction with Google's machine learning algorithms and AI.
Moving on to the battery, the Pixel 4 has a 2800mAh battery for the 5.7" model while the 6.3" model has a 3700mAh one. At this point, we really don't know whether to be happy for the bump in battery capacity of the Pixel 4 XL or to be sad for the loss of capacity on the 5.7" model. Whatever might be the case, you'll have to wait till a proper review to know how the battery life is on both devices.
Colors, Pricing & In the box
The Pixel 4 lineup features two of the classic Pixel colors – Just Black and Clearly White. While new for the year is the color – Oh So Orange.
The Pixel 4 lineup starts at –
$799 | £628 | €725 for the Pixel 4;
$899 | £706 | €816 for the Pixel 4 XL
and is available for pre-order right now.
The Phone comes with the following inside the box (as listed on Google Store):
18W USB-C power adapter
1m USB-C to USB-C cable
Quick Start Guide
Quick Switch Adapter
SIM Tool
Google Pixel Buds | Made by Google 2019
Google has launched its very first truly wireless earbuds at "made by Google 2019". The earbuds feature custom 12mm drivers, custom sensors, and custom batteries. Google claims 5hrs of battery life that can be extended up to 24hrs via the included wireless charging case. It also features an adaptive sound that adjusts volume dynamically with a change in the environment. And when you are on a call, beam-forming mics focus on your voice while voice accelerometers detect speech through your jaw-bone. As such, no matter where you are – a loud restaurant or a windy day doesn't get in the way of your conversation.
The Pixel Buds will be available in the Spring of 2020 for a price of $179.
Google Pixelbook Go
Google launched the Pixelbook Go in 4 variants. Those are:
| | | | | | |
| --- | --- | --- | --- | --- | --- |
| Intel® Core™ m3 | 8GB | 64GB | Full HD Display | Chrome OS | $649 |
| Intel® Core™ i5 | 8GB | 128GB | Full HD Display | Chrome OS | $849 |
| Intel® Core™ i5 | 16GB | 128GB | Full HD Display | Chrome OS | $999 |
| Intel® Core™ i7 | 16GB | 256GB | 4K UHD Molecular Display | Chrome OS | $1,399 |
Google claims up to 12 hours of battery life from these laptops. The FHD models feature a 47Wh battery while the UHD model features a 56Wh battery. All the models have Fast Charging and come with a 45W (5V/3A, 9V/3A, 15V/3A, 20V/2.25A) USB-C Charger that also works with the Pixel Phones.
The Pixelbook Go also features Google's patented Hush Keys along with a backlit keyboard and a dedicated Google Assistant Key. These devices also feature extra-large multi-touch and gesture supported anti-smudge trackpads. As for wired connectivity, these devices feature 2 x USB-C ports that support charging and display outputs and a 3.5mm headphone jack. The products are available for pre-order – here.
Google Nest Mini & Nest Wi-Fi
Google also launched the 2nd generation of the Nest mini at the made by Google 2019 event. It is purported to have a 40% stronger bass than the original mini. Google also claims that it is made from 100% recycled plastic bottles. It is available in the following colors – Chalk, Sky, Coral, and Charcoal. Prices for the Nest mini start at $49 (Pre-Order here).
Next up is the Nest Wi-Fi, which is the 2nd generation of Google Wi-Fi that showed up at the made by Google 2019 event. According to Google, a single router covers up to 2200 sq. ft. per point while the expandable Wi-Fi points cover 1600 sq. ft. per point. The devices support both 2.4Ghz and 5Ghz bands and come in colors of Snow, Mist, and Sand for the Router. While the Wi-Fi points only get the Snow color.
The router and Wi-Fi points can be configured to form mesh networks around your home. These come in packs of 1, 2, or 3 devices. Prices of the Google Nest Wi-Fi start at $149 (Pre-Order here).
Google Stadia
Last but not least, Google has announced that it will be launching Stadia for the general public starting November 19th. And now if you already didn't know, Stadia is a Cloud-based gaming platform by Google that lets you play or rather stream your games everywhere. Be it on your Television, Laptop, Desktop, Console, Phone, etc. There's absolutely no download involved.
You can stream and play your games at 4K 60FPS with 5.1ch. audio and in HDR. To check whether you'll be able to run Stadia and if run Stadia then at what settings, check here.
Stadia is currently Founder's Edition only. Although there will be two membership plans – Stadia Base and Stadia Pro. The Base plan will be coming in 2020.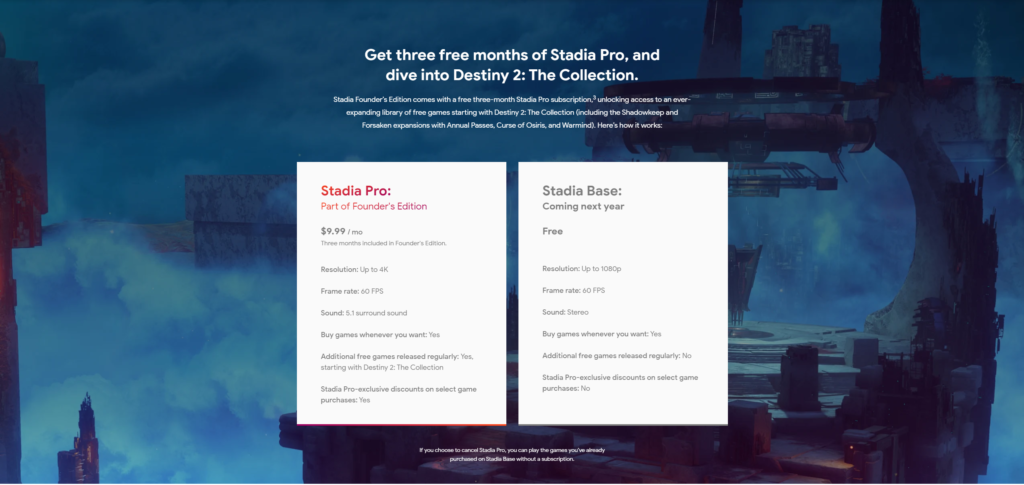 If you like the content, please subscribe and Follow us on our Facebook and Twitter accounts.