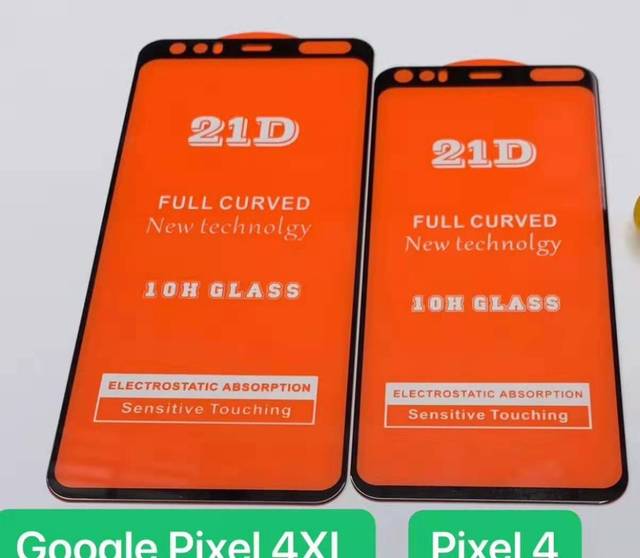 In classical Google fashion, we have learned a lot about the Pixel 4 in the lead up to its actual reveal. Presently, two huge leaks of the Pixel 4 have shown up. It details the smaller phone along with screen protectors that show a large cutout. That cutout might just be for Project Soli sensors.
Pixel 4 Leaked Renders
OnLeaks is back with another set of renders, and this time it includes the smaller Google Pixel 4 instead of the XL model. The images show off the phone in CAD-based renders.
Given the track record alongside Google's own official confirmation, it is very likely that you get to see the phone this October. The size difference between both the variants is also shown in this set of images. The considerable height and width differences are very noticeable. The overall dimensions of the Google Pixel 4 are 147.0 x 68.9 x 8.2 mm, with the camera bump at 9.3mm. That's compared to the 160.4 x 75.2 x 8.2mm dimensions of the Pixel 4 XL that were previously revealed. It's also just a bit bigger than 2018's Pixel 3 which was 145.6 x 68.2 x 7.9 mm.
Beyond that, there's not much else you could learn from these renders aside from additional confirmation that the design and speaker placement will be the same as the Pixel 4 XL.
Screen Protectors
Google Pixel 4 has been long rumored to sport hand gesture control. That rumor just became more tangible with Ice Universe's tweet.
Ice Universe obtained images that reportedly show detached bezels for the Pixel 4 and Pixel 4 XL. The image also includes a rather curious looking ovoid hole on the top-right side. Given the fact that this hole doesn't appear to sport any cameras or any other visual sensors in the previous leaks, one can only conclude that it could be a cutout for Project Soli radar. Project Soli radar lets you perform gestures without touching the display.
The other holes at the top are effectively accounted for. You could expect a pair of selfie cameras on both the Pixel models. A central speaker and face recognition or depth sensor should also be present.
Outside of Google's teaser, you're not likely to hear any official news about the Pixel 4 and its sensor layout until early fall. Although if this leak proves accurate, it will represent a reason why notched displays appear to be vanishing on higher-end Pixels. The reason being – the sheer number of sensors make notches impractical. As such, any aesthetic improvement would be representative of a meager bonus.